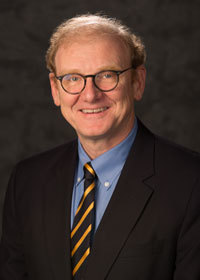 I was handed a print of John Singer Sargent's painting of the Four Doctors on my first day of medical school at Johns Hopkins. Drs. Halsted, Kelly, Osler and Welch seemed distant historical figures with little or no connection to me. It wasn't until years later when I was on the faculty and heard Dr. John Cameron tell the remarkable story of Dr. Halsted's life that these characters came to have meaning to me. The dramatic moments, such as Dr. Halsted transfusing his own blood into his sister's veins, his struggles with addiction, and, the impact Dr. Halsted had on modern medicine were fascinating. Above all, Dr. Halsted's ability to fight against terrible challenges was inspiring. I couldn't get his story out of my mind.
As a pathologist I am a "visual" person and so the natural thing for me to do was to create something visual. More than ten years ago, first by myself and then eventually together with my neighbor David B. King, I began working on a fictional screenplay based on the life of Dr. Halsted. Although this screenplay was well-received, garnering second place in the 2009 Baltimore Screenwriter's Competition, and fifth place in a national screenwriter's competition (the Golden Brad Awards), it was not entirely satisfying because the screenplay was only loosely based on the facts of Dr. Halsted's life. For example, since little is known of Dr. Halsted's treatment at Butler Sanatorium, we had to fictionalize critical scenes needed to explain the dramatic changes in Dr. Halsted's personality after he moved to Baltimore. In an effort to balance the fictional screenplay I decided to produce a non-fictional documentary.
I therefore teamed with a young and very talented film maker, Alan Wu, and an award-winning photographer, Norman Barker, to create a non-fictional documentary. Alan is a recent graduate from Stanford College with a strong interest in creative film making. His previous films include Fugue, Boiling Point and Memories. Norm has written several books, including Ancient Microworlds, Seaweeds: Wonders of the Ocean Realm and Paleobotanical Splendor. Norm's photographs are in the permanent collections of more than forty museums, including The Smithsonian, The George Eastman House, The American Museum of Natural History, and The Science Museum in London. He is currently collaborating on a book entitled The Eye of the Beholder: Exploring the Aesthetics of Medicine.
The documentary is based on Dr. Cameron's article "William Stewart Halsted: Our Surgical Heritage" (Ann Surg. 1997 May;225(5): 445-58.). We felt that this article would provide a well-organized and insightful foundation onto which we could add new material.
Our first challenge was to identify subjects to interview. We wanted to include two groups- authorities on Dr. Halsted and addiction, and individuals with a direct relationship to someone close to Dr. Halsted. The former group was needed to paint an accurate historical picture, the latter to create a personal narrative. The experts we interviewed included Drs. John L. Cameron (former William Stewart Halsted Professor of Surgery at Johns Hopkins), Daniel Nunn (former historian to the Halsted Society), Dr. Malcom Brock (a young surgeon at Hopkins), Dr. Howard Markel (author of the book An Anatomy of Addiction Sigmund Freud, William Halsted, and the Miracle Drug Cocaine), Nancy McCall (Director of the Alan Mason Chesney Medical Archives), and Paul McHugh (former Chief of Psychiatry at Johns Hopkins). To get more personal stories we interviewed Drs. William Rienhoff III (son of Halsted's last assistant resident Dr. William Rienhoff), Hugh Rienhoff (grandson of Dr. William Rienhoff), D.C. Finney (son of Halsted's close surgical colleague J.M.T. Finney), and Stewart Finney (the great grandson of J.M.T. Finney). The Maryland historian Ric Cottom added wonderful perspective to the story.
In addition to the interviews, we visited numerous archives in search of material on Dr. Halsted. Nancy McCall at The Alan Mason Chesney Medical Archives at Johns Hopkins was extremely helpful, as was Gary Lees of the Walters Collection of the Max Brödel Archives, and Stephen J. Greenberg at the National Library of Medicine. Their extensive collections of historical documents, photographs and old medical textbooks, and their knowledge of the field, provided much of the material for the documentary as well as a wonderful glimpse into American medicine in the 1880s. On a personal note, the thrill of holding original historical documents such as William Osler's diary in hand cannot be understated.
Paul Schlitz Jr., kindly volunteered his creative efforts to compose and record original music for the documentary. Paul, a lawyer and partner in the firm of Mering and Schlitz, is a self-taught composer and musician. He sings in the musical group "The Missing Chums," and has composed original music for a number of groups at Johns Hopkins over the years. Paul composed and recorded 28 original pieces of music for the documentary, sometimes using a set of variations repeated over a ground bass to illustrate the redundancy of Dr. Halsted's addiction. Of interest, it is likely that Paul's great grandfather, Francis Augustus Schlitz, M.D., may have known Dr. Halsted. Francis Schlitz graduated from New York University's School of Medicine in 1878 and subsequently interned at Bellevue Hospital.
The challenges in creating this documentary were many and all too often unanticipated. From getting a camera to use, to a paucity of actual images of Dr. Halsted (he clearly did not like to be photographed!) we learned that each challenge, once we were able to overcome it, also provided new opportunities. For example, despite our best efforts we simply could not find several critical images needed for the flow of the documentary. At Johns Hopkins we are lucky to have an extraordinary Division of Art as Applied to Medicine (started by the great Max Brödel). We were able to use some of Brödel's historical illustrations and, in addition, two talented medical illustrators from the division stepped forward and created original artwork that more than filled these gaps. Timothy Phelps and Beatriz Martin Villalba created original works of art that we believe add a wonderful feel to the documentary.
The regulations encompassed in the Health Insurance Portability and Accountability Act (HIPAA) of 1996 (www.hhs.gov/ocr/privacy/) proved particularly problematic to us. Although originally meant to allow patients to transfer from one health insurance provider to another, and to protect their medical records, one of the unintended consequences of this law has been to significantly curtail historical research on medical figures. One of my colleagues has said that if Abraham Lincoln had been taken to a hospital, Edwin Stanton's famous quote "Now he belongs to the ages" would likely be covered by HIPAA and not available to historians today. Recent proposed amendments to HIPAA, limiting its reach to three generations (or ~50 years), hopefully will address this serious obstacle.
Finally, there are a few technical details that should be mentioned. We used Final Cut Pro software to create the documentary and were particularly fond of the "Ken Burns effect," which allowed us to give movement to still images. The documentary was then rendered into an Avid system for final editing.